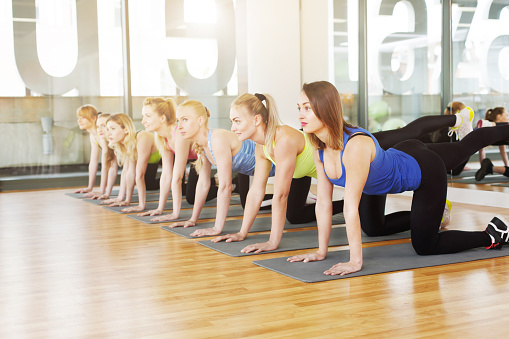 A Young Women's Volleyball Club with Gym Benefits
At PSB Fitness our highest objective is always to help our customers reach their overall body and fitness goals. Whether your goal is weight loss, endurance, strength, or anything else. We provide a multitude of activities, classes and amenities to help our amazing audience to reach their personal goals. Including our young women's casual volleyball club, with gym membership, Brampton and Mississauga locations. As well as classes taught by professionally qualified athletes and personal trainers. We provide personal training sessions in the gym as well as volleyball lessons for young women just starting out, or those who wish to perfect their performance.
Volleyball Club + Gym Membership Package Deal
At PSB Fitness we pride ourselves in providing our customers with the best bang for their bucks. For the most part around the GTA,  you can either join a gym or a volleyball league, it is rare that you'll find both. That's where we come in, we allow for the best of many worlds as we allow for our customers to play casual volleyball or in a recreational league, and workout in the fitness center all under one roof with our young women's casual volleyball club with gym membership, Brampton and Mississauga locations included.
Now at this point you may be wondering. "Won't this cost me an arm and a leg?" That's the best thing about PSB Fitness, it won't! While normally you can expect to pay at least $150-$300 to join a volleyball club for a season, then add the cost of a typical gym membership at $40-$80 per month, we provide a package deal to join our women's volleyball club for a season for only $100 plus the cost of our gym membership which is$50/month. Those who do not want to participate in the club but would still like to play some volleyball with a friend are free to do so with only our gym membership.
Workout With Friends
Speaking of playing with friends, we allow our members to bring a friend with them. Whether that is to workout or to play some volleyball, or just enjoy our tanning and massage beds. This of course comes at no extra cost as we believe that things are more fun with friends. That is what we are all about at PSB Fitness, above all we want our members to have fun!
It's important to us that our customers are as dedicated to their health and fitness as we are. While we understand that some prefer to work by themselves, we also understand that there are some that prefer to exercise with friends and we would like to reflect that. Achieve your body goals without sacrificing your social life. Get tanned, toned and relaxed beside your best friend with open-access to our state of the art tanning and hydromassage beds for only an extra $10/month on your membership fee.
Frequently Asked Questions
Is there a men's volleyball club as well?
Unfortunately we do not have a co-ed club or one exclusively for men at this time. We do allow male PSB Fitness members to use the volleyball court for practice or recreational play. Men are also welcome to spectate and support our great women competing in the league.
Where Can I Take Advantage Of This Volleyball Club With Gym Membership Package?
Those who would like to get involved with our PSB Fitness family at the best possible deal. Can sign up for our young women's volleyball club and gym membership at a reduced rate per season either at our Brampton or Mississauga locations. Or online at https://three.psbdigital.ca/psb-subscription/.
Can I join the volleyball club without joining the gym?
Females looking to join our women's volleyball club without a gym membership will be pleased to learn this is possible. For a rate of $150/season, women get to participate in the volleyball club's 10 week season as well as access to the court at any time for practice.
If you have any other questions regarding, availability, fees, rules etc. Please reach out to us on Twitter at https://twitter.com/PSB3Digital or on Instagram at https://www.instagram.com/psb3digital/.